Workshop: Mentor, Coach, Sponsor-What do I need?
---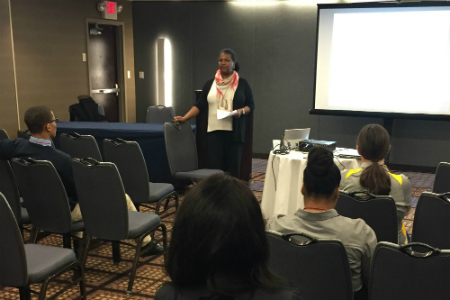 Posted on November 28, 2016
Presented at the NSBE Region IV Fall Conference
Quick, name three people that act in a professional advisory role with respect to your career. Do you have advisors for your professional development? Have you wondered how to access the hidden job market? Although the advisory arrangements may not be formal, they can be critical to career development and professional success.
Workshop Content
On November 19, 2016 at the Region 4 NSBE Fall Regional Conference a hearty group and I covered the differences between a coach, mentor, and sponsor by looking at the definitions and the roles an individual acting in each of these capacities can mean for your professional life. Mentors are sounding boards, providing support for long-term success. Coaches can help with specific. sometimes intense, short-term improvements. Sponsors believe in you and provide access to opportunities.
Mentors
The ideal mentor will take a long-range view on your growth and development. They are objective and can help you see your destination without being encumbered by what you're doing today. Your mentor offers encouragement and cheerleading, ideas for next moves, and will brainstorm strategy with you. Example things you and your mentor will discuss are:
Brainstorm your career trajectory
Introduce new opportunities and people
Coaches
Your coach takes a short-term view on specific professional development tactics. The relationship is typically structured and focuses on helping you achieve specific, immediate goals. Example things you'd engage a professional coach for are:
Public speaking practice, including observing dry runs and giving tips for improvement
Reviewing your resumé or LinkedIn profile and overhauling it
Job interview suggestions
Guidance on international business culture
Sponsors
A sponsor can open doors that you aren't able to open on your own, and often can't even see! In an organization sponsors are typically senior to you and have the power to get you that next job. They believe in your potential and are prepared to take a bet on you. They always have a voice at the table and are willing to be your champion. Most importantly they provide the cover you need to take the risks necessary to succeed. Finding the sponsors in your life and for your professional endeavors can be the difference between a difficult slog through your career and the smooth way to the top. Examples of the way a sponsor will help are:
Career transition, new job, changing discipline
Intervene for new roles on your behalf
Private investment in a start-up or new venture
Finding your crew
Watch for the mentors, coaches, and sponsors that guide your career or your business to new heights! Contact us for coaching in different business specific tactics. In addition to the business and information management activities we can do for you, we are also available to help you chart your own course.
Presentation Deck
---