Content Marketing as a service
---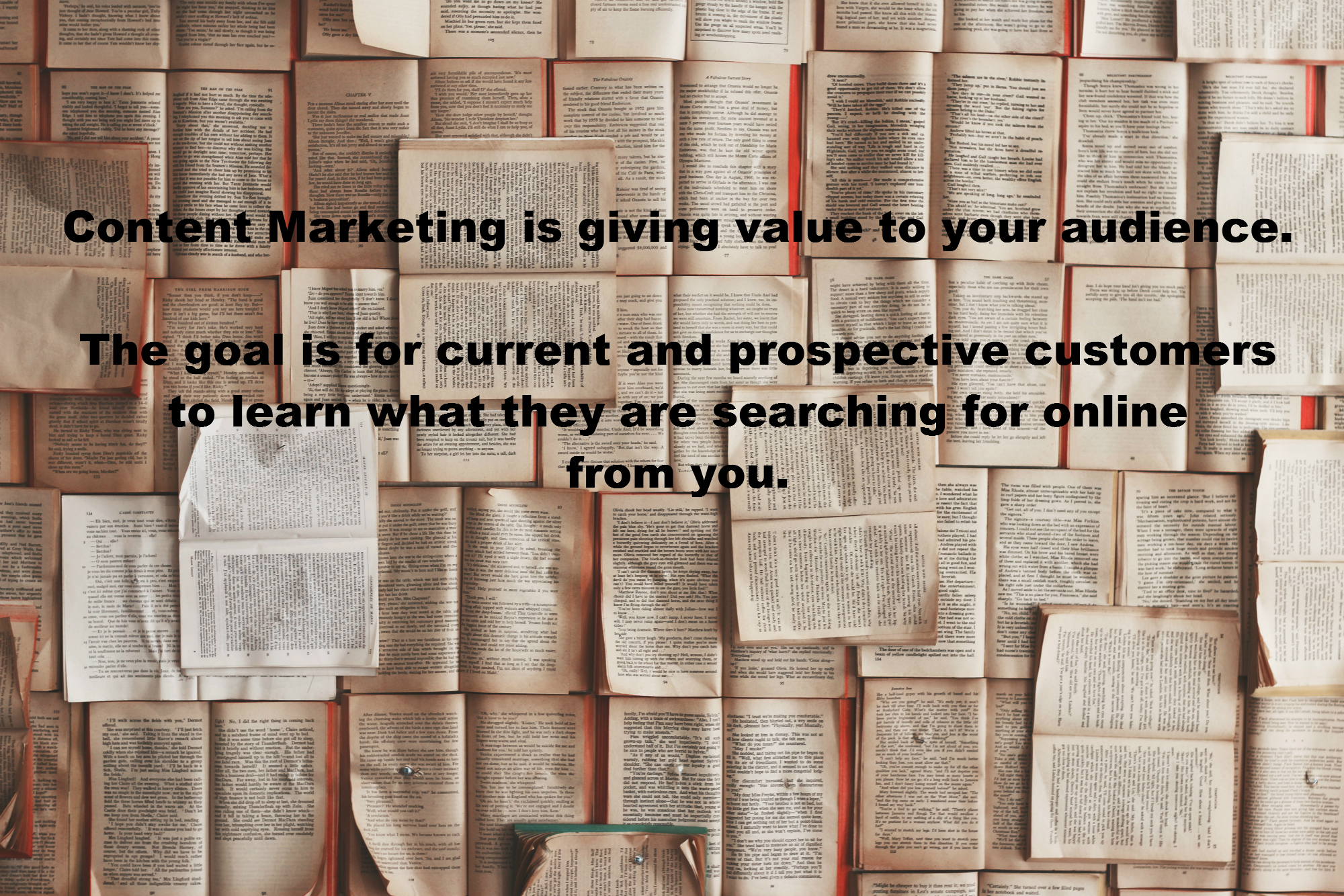 Posted on June 8, 2016
Let's start with a conversation about Content Management
When I talk about our business focus – information services, I find most people want more specifics. I'm glad they ask. Sometimes I find myself giving what feels like just more buzzwords:
I will audit your digital assets, online and offline, and recommend a way forward to meet your business goals.
Most times none of this resonates with people that can use the service. Taking a different tact, I offer some scenarios and examples.
Some of our clients don't have basic websites, and we help them get started.
Do you have a basic website, and think you should do more online?
It was easy for businesses to be found when everyone had a copy of the Yellow Pages, and we help clients in the post-YP world.
Have you claimed your business in all the online directories?
We help organizations tell their story to prospective customers.

Now they perk up. That's right, they think – I can't remember when I last used a paper directory of businesses. What do we use now? Does everyone use the same thing? [that would be, no.] Or they realize – I can never find out how to do [some critical activity] without asking [that specific colleague], I don't know what we'll do when s/he retires. (Yikes!)
Here we have a reverse information retrieval problem, and information retrieval is a classic activity conducted by information professionals and librarians every day all over the world.
Discovery and engagement
If people are still interested, or are now finally interested, we talk about adult learning preferences – the subject of our June 2016 Friday Fun Fact blog series – and how their discovery process can be instructive for businesses. Organizations that understand adult discovery preferences and behavior can use the information to educate the consumer, cultivate trust, acquire new customers, and increase revenue.
A strategy for creating and delivering content
At this point in the interaction I can see the gears spinning. If the person's interest is peaked by the marketing scenarios they're thinking, "how do I education my online customers about our service or product?" That's fantastic! Is this part of your comprehensive marketing strategy? Because even though we haven't used the M-word – that's clearly what we're talking about. The online component is simply one component of a comprehensive marketing strategy. There are great books and articles that will help you take your business plan and create a marketing strategy that aligns with it. (You do have a business plan, right? Dust it off – maybe update it for this century.) Be sure resources you consult were created in this century (for example, I'd put away those yellow pages for advertising advice). We share some of our favorite resources at the end of this post.
How we got in the content marketing business
According to Content Marketing Institute, content marketing is a strategic marketing approach focused on creating and distributing valuable, relevant, and consistent content to attract and retain a clearly-defined audience — and, ultimately, to drive profitable customer action.
We believe in the importance of an informed public. At the highest level, our vision is full access to intelligence for people to make informed decisions. One of the most basic decisions people make is using their [limited] financial resources to make purchases. If we work on both sides we believe we are working toward our vision. On the business side we will help businesses create and deliver content and that allows us to see that high quality information about things people search for and want to discover is available  in organic searches. From the consumer perspective, we ensure the seminars and workshops we offer and volunteer give attendees the tools to be discerning with the questions they ask, the answers they get, and the results they retrieve – particularly in the wild wild west of online information retrieval.
Therefore, we believe in working on both the business side of marketing:
Businesses: delivering creative, compelling, informational content; and
Consumers: discovering factual information that answers their wants and needs.
Content Marketing Tips
Our initial content marketing tips are general marketing tips. The special part about content  marketing (online) is the delivery channel.
Create a comprehensive marketing plan and integrate online marketing efforts.
Know your customers and prospective customers, create organic content that speaks to their pain points, and deliver it where they are.
Exhaust organic content delivery methods, then add paid advertising.
Content Marketing Resources
As a hot topic, there are so many content marketing resources we could share. Everyone has their methods. If you've been reading our blog here and at our info pro education blog, you'll know we don't believe things have to be so complicated.
Buffer, How to write a content marketing strategy with a template for download!
Content Management Blog Series
We blog about content and information management every two weeks on Wednesday. For us content marketing, is a subset of content management since it covers one way to use your organization's content.
June 22: Information Management
July 8: Content Management – Content marketing focus on consumer information retrieval.

Add your email in the panel on the right to receive a notification and you'll also receive our monthly newsletter with actionable tips. We want to hear from you! Please share your content management and/or marketing questions and plans in the comments below.
---